Costa Brava
The Costa Brava is the most Northern coastline of the Spanish East coast, and enjoys a Mediterranean climate. Costa Brava literally means 'rough coast', which is immediately visible considering the rocks and cliffs with the most beautiful beaches in between. Along the Costa Brava you find popular seaside towns and resorts like Blanes, Lloret de Mar, Tossa de Mar en l'Estartit, but don't forget the landward areas. There you find small villages with an authentic Catalan atmosphere and bigger cities like Girona or Figueres.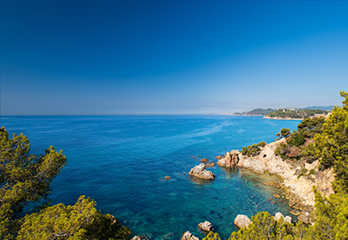 Due to the crisis, a lot of houses at the Costa Brava are repossessed by banks. These villa's and apartments are now in forced sale. This creates an opportunity to buy your perfect home at the Spanish coast for a very profitable and affordable price.
Find here the best Bank Bargains at the Costa Brava.
Links Costa Brava: